About us
When Brett Jones was born without an immune system his family's life changed forever.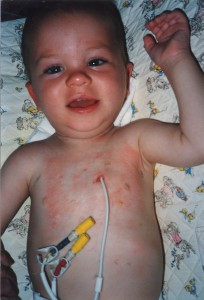 Steve and Roslyn Jones spent more than a year in hospital with Brett as he underwent chemotherapy and a bone marrow transplant. They watched sick kids sharing medical equipment which spread germs and caused additional suffering.
This motivated Steve and Roslyn Jones to set up Kids Like Brett - a charity dedicated to purchasing life-saving medical equipment for sick kids. Their aim is to help Australia's seriously ill kids grow up to be fit and well - just like Brett.
An unorthodox approach
Steve decided on a different approach to fund raising. He began raising money to purchase expensive medical equipment at reduced rates to donate to children's hospitals.
Hospitals contact Kids Like Brett and let us know what equipment is needed. Steve talks with the hospital staff to double and triple check that the requested item is the best available for the situation.
Then Steve contacts the manufacturer and negotiates the best possible purchase price. He purchases the live-saving equipment, donates it to the children's hospital and oversees the installation. 100% of funds raised go toward the purchase of life-saving medical equipment for sick kids.
The major beneficiaries of our efforts
Neonatal Intensive Care Unit, Nepean Hospital
Paediatric Diabetes and Endocrine Service, Royal North Shore Hospital
Radiology Department, Royal North Shore Hospital
Department of Neonatolgy, Royal North Shore Hospital
Sydney Children's Hospital Randwick
Emergency Medicine, Royal North Shore Hospital
Campbelltown Health Service
Department of Paediatrics, Royal North Shore Hospital
Children's Hospital at Westmead
Centre for Children's Cancer and Blood Disorders, Sydney Children's Hospital Randwick
Department of Haematology and Oncology, Sydney Children's Hospital Randwick
Children's Hospital, South Australia
Bear Cottage
CareFlight
Awards of recognition
For his outstanding community service Steve has received several awards including:
North Sydney Community Award, 2007
Australian of the Year, Local Hero - NSW, 2003
Community Father of the Year, 1998
Energy Australia Community Spirit Award, 1997
Royal North Shore Honour Board, 1997
2Day FM Cambelltown Hospital Appeal Award, 1996
Help us save a life.
Make a donation or contact Steve to discuss how you can lend a hand.
Kids Like Brett raises money from both the public and corporate sectors and has hosted a number of successful community events. All professional services are donated.